Annette Bening
Annette Bening (nacida el 29 de mayo de 1958) es una actriz de cine estadounidense. Nació en Topeka, Kansas. Ha sido nominada cuatro veces al Oscar.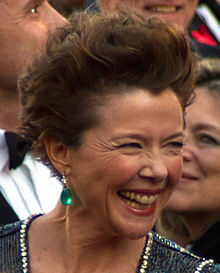 Bening en 2011  


Logros
Bening ha sido nominada al Oscar en cuatro ocasiones por sus papeles en The Grifters, American Beauty, Being Julia y The Kids Are All Right, ganando el Globo de Oro por estas dos últimas películas. Ganó un BAFTA y un premio SAG por su interpretación en American Beauty.
En 1995, Bening apareció en The American President, interpretando a Sydney Wade, una consultora de relaciones públicas que sale con el Presidente, interpretado por Michael Douglas.
Vida personal
De 1984 a 1991, Annette estuvo casada con J. Steven White. El 3 de marzo de 1992, se casó con Warren Beatty. Tienen cuatro hijos.